New one-day Online Writing Course
Spaces limited so register before it fills up.
We are running an interactive, one-day online writing course in September 2023.
Subjects covered will include:
How to plan your novel.
Creating character.
Life writing/Memoir.
How to catch an agent's eye.
Q&A sessions
The fee for the day is £271
 Fee for those registering before 20th May £175
Email info@theoxfordeditors.co.uk to book your place and get payment details.
Going for gold writing course
The Oxford Editors offers an online writing course, tailored to your individual interests and needs. This is a much more personal approach than our structured courses which are aimed at the general student.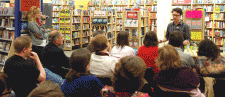 On our online writing course you will be assigned a personal tutor. Your tutor will discuss your course, tailor it to your needs and get exercises that will involve your own writing.
You will be asked to submit a piece of work every two weeks on which you will receive written feedback. There will also be a monthly call/Skype conference of one hour with your tutor.
Whatever your project, the aim would be that by the end of the course you have a polished piece of writing.
The duration of the course will be 6 or 12 months subject to an initial telephone discussion with your allocated tutor.
Cost of tailored writing courses:
£1,750 for 6 months.
£3,500 for 12 months. (Or 12 monthly payments of £300)
Other benefits:
You will receive a 10% discount on all other services offered by The Oxford Editors
Your work may be chosen to be featured on our website as our 'pick of the year' in December.
Please don't hesitate to call us to discuss how such a writing course may be of benefit to you.
Call us on 01865 238066 or 01865 258737.
The first draft is just you telling yourself the story

Terry Pratchett
Our Fees and How to Submit:
Please click here to go to our fees page.
Please note, we do not accept encrypted manuscripts.
Discounts:
We offer discounts when more than one service is taken up and paid for at the same time at the start of the work.
Please see our Terms and Conditions.
I have worked with Oxford Editors for the last 24 months. Specifically, I was lucky enough to have Cherry as my writing mentor where, miraculously, she helped me turn a very ordinary piece of writing into a full manuscript which I am very happy with. The mentorship was a very special relationship where Cherry and I meet frequently working on my writing style and helping me find my authentic writing voice. It has been the most wonderful process where Cherry listened and understood my vision for the work completely. At every stage, I had guidance and support, continuing through the publishing phase. I do not hesitate to recommend working with the Oxford Editors if you value your work as art, and wanting to go beyond the ordinary.

Elise Klein